Best Ways to Use Flowers in Your Halloween Decor
24

Oct 2019
Best Ways to Use Flowers in Your Halloween Decor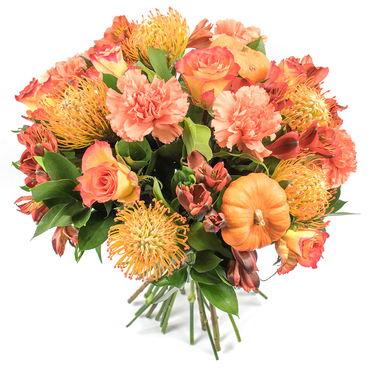 Halloween is the one day that it is OK for all adults to act as silly as children and to party in ridiculous, scary costumes. Although you want your Halloween dinner party to be filled with ghoulishly good things, you don't want your décor to be frightfully mediocre. Many people rush to the shops to buy synthetic spider's webs, cackling animatronics or slimy surprises, but what if you are looking for a more elegant approach to Halloween this year? You may not associate Halloween with a trip to the florist, but our floral ideas could have you ordering flowers for Halloween in bulk from online florists in time for your festivities. Take a look at some of our top tips on how to use flowers in your Halloween décor and host an unforgettable party that will be hard to beat.
Pumpkin Vases
Carving pumpkins is fun for both children and adults, and the competitive among us just love creating frightening or even cute carvings in the plump orange fruit. Take your Halloween décor a step further by filling each pumpkin with flowers instead of tealights and instead surround the pumpkins with fairy-lights for a sophisticated touch. As your pumpkins can't be filled with water as the liquid will simply spill out of the carved spaces, the flowers will go limp and dry fairly quickly which is just what you want for a Halloween-themed party. In fact, it is advisable to have flowers delivered a week or so in advance, enjoy them being fresh and fragrant for a while and then keep them to place into your Halloween pumpkins as they wither and wilt.
Autumnal Wreaths
Halloween decorations are usually orange, black and deep reds, and autumnal flowers blend well with these themes. Autumn wreaths are very popular, and you will see varieties hanging on doors during the later months of the year. Many flower shops have these wreaths ready-made and even some sending autumn flowers by post which is great for those who are pushed for time to their party. You can also buy cheap flowers online and make your wreath and there are plenty of online guides about how to do so. Once you have made your wreath or received your wreath flower delivery, place spooky decorations amid the leaves and petals such as insects, cobwebs and perhaps even a miniature skull or two. When Halloween is over you can then remove these decorations and continue to use the autumn wreath as a beautiful door decoration.
Halloween Centrepieces
If you are planning an extremely elegant affair, use flowers for the perfect centrepieces and to adorn the back of your guests' chairs. Orange daisies and lilies, and yellow chrysanthemums are stunning flowers that will look beautiful bursting from hollowed-out pumpkins or tied in small bunches to the back of sashes on each dining chair. Complete the autumnal effect by piling apples, pomegranates and berries around each centrepiece and by using single apples with rustic labels as part of the table setting for each guest.
Flowers as Part of Your Costume
Although not strictly décor, your costume can be accentuated with the help of some well-chosen flowers. Think wedding flowers for a ghostly bride and buttonholes for a deathly groom. Stick to the dark reds and burnt orange flowers such as roses and team with plenty of foliage in earthen tones to keep with the hues of autumn. Decaying flowers as a head-dress can look sensational and you may only need one bouquet of flowers to complete your costume.