Funeral Casket Flowers & Sprays
31

Jan 2019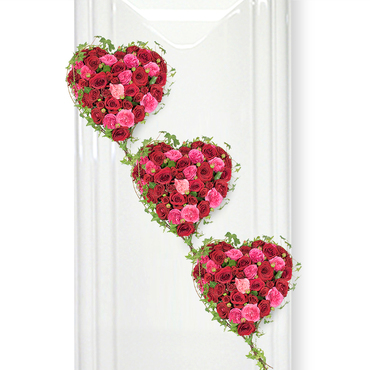 It's tough to know what to do when the loved one of someone you know passes. You want to show them that you care but at the same time you want to give them some space. It's a distressing time for them, and so it could be best to leave them with family, give them time to get over their loss. As that old saying goes, time heals everything. But you still want to show that you care, still want to show them that you're in their thoughts. You could call them or send them a loving message expressing your deepest sympathies. But there is a gesture that you can make that will show all of this for you. Sending funeral flowers is the ideal way to show someone that you care. Of course, it's the thought that counts when it comes to having flowers delivered. But still, it's important that you choose the right type of flowers. Believe it or not, there is etiquette involved in choosing and getting funeral flowers delivered.

If you're unsure, the best thing to do would be to pay a visit to your local florist. They would have dealt with such sombre occasions before. Florists will know which flowers are suitable. If you choose a florist that's local to you, and local to the home of the deceased and their family, they may even know something about the funeral arrangements. They'd be best placed to properly instruct you as to which funeral tribute to send.

Do you send funeral baskets, funeral posies, funeral sprays, funeral wreaths – what type of flowers do you send? Choosing the right flowers to send for flower delivery can actually prove to be something of a minefield.

Funeral casket flowers are generally left up to the family to decide. It is, after all, a very personal thing, choosing which flowers to use to adorn the casket of a deceased loved one. If you're a friend of the family, stick to funeral sprays. These will be much appreciated and can be used to decorate the family home or the place where the funeral itself is being held.
If you're involved in the decisions and are choosing casket flowers, then you have plenty of choices. There are lots of things that you need to keep in mind.

Firstly, decide which colour you want the flowers to be. Funeral flowers are generally quite neutral in colour. That doesn't mean that you have to follow a tradition. If you have a flower arrangement in mind, go with it. If you know that the deceased loved a certain type of flower, loved a certain colour, incorporate it into your flower arrangement. Certain flowers, certain colour schemes, do have special significance. But it is ultimately about the significance of the arrangement to you and your family.

Sprays can come in all different colours and arrangements. A popular choice is standing sprays. The flower arrangements are mounted and are used to decorate the place where the funeral is being held. They can make a touching tribute to the deceased. They can express your sentiments of serenity, or sorrow and of love. Certain shapes can express love and devotion. Shapes and colour schemes can also have religious significance. For example, circular wreaths are designed to lift the spirits, not only of the deceased, but of all those present.

Choosing the right casket flowers and sprays is ultimately up to you and boils down to your relationship with the deceased. But there's plenty of help out there. You have a plethora of options.