Wedding Flower Trends in 2022 to Know
10

Jan 2022
Stay Up to Date with the Wedding Flower Trends in 2022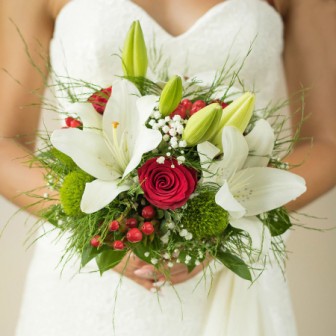 Are you planning to tie the knot in 2022 and want to know what the biggest floral trends are for the year? We have got you covered. We consulted with some expert florists to discover what every 2022 bride is asking for, and we're sharing their insights with you. And based on their feedback, we can tell it is going to be a wonderful year for wedding photos because these flower ideas rock! Without further ado, let's get into the top wedding flower trends for 2022.
Pastels
We can say without a doubt that white is out next year. Pastels are proving hugely popular among brides, with many doing away with the traditional peonies and other white flowers in favour of a slightly richer but equally elegant pastel selection. And what a great range of flowers there are to choose from too. From stunning pin roses to subtle pansies, there is something for every bride in this palette this year. We can't wait to see the beautiful contrast between the wedding gowns and the bridal bouquets in next year's snaps.
Red & purples luxury - not a pastel person?
Prefer something bolder and more eye-catching? Don't worry, our florists have told us that there is also a growing demand for red and purple wedding flowers. And this is for both the bridal bouquets and the floral decorations. Apparently, brides are going bonkers for bright red flowers such as poppies and roses, which is unsurprising as red is the colour of love and passion. But mixing that in with a few purples is sure to result in some absolutely amazing flower delivery choices next year, and we can't wait to see it. Get ahead of the curve and talk to your flower shop today.
Cascading bouquets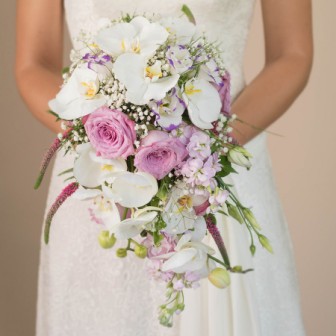 The trends of wedding flowers vary so much over time. In recent years it's been all about the small, delicate and subtle bouquet. Yet, a decade ago, no bride would be seen without a massive (often very heavy) bridal bouquet. Today, the trend has changed once more, and in 2022 our florists are seeing a lot of brides opting for cascading bouquets. And do they look spectacular or what, especially in the bright, contrasting colour schemes that are so popular next year. If you want to feel like a royal princess, follow the trend of Kate Middleton and get on the cascading bouquet train.
Local flowers
Going green is definitely in this year, and one of the easiest ways to do that is to choose a local flower shop for wedding flowers. Florists across the country have started seeing a trend for people going local and choosing UK grown flowers. We are completely in support of this trend and love the idea of brides and grooms taking action on their special day to help the plant. It also helps your local flower shops, so you can feel doubly good about indulging in this trend.
Nature in the aisles
It's not just the wedding bouquets that flower shops are getting involved with, it is also decorating the aisles. Lots of couples are choosing to adorn their seats, aisles, pews and venues with flowers and plants. We think this creates a stunning experience and looks good in pictures. If you are a flower lover, then this trend is one you will want to get involved in. Talk to your local florist if you haven't already, to find out the kind of flower delivery they can organise for you on your special day.